UPDATE: The rankings are out!
See them here: http://grad-schools.usnews.rankingsandreviews.com/best-graduate-schools/top-law-schools/law-rankings
It turns out that the lists below were indeed an accurate picture of the new top school. We'll be posting our analysis tomorrow, so check back!
In the digital age we've come to expect anything and everything to leak early. Only Beyonce has figured out how to run a tight ship. While US News also usually does a pretty good job keeping their new rankings a secret, it appears they've let slip a little teaser…
With the official USNWR rankings not expected to arrive until tomorrow, Above The Law earlier today published what may well be the new top ten. This list is just in alphabetical order (duke is not going to be a top 5 law school in our lifetimes), but Above The Law claims it shows the new top ten: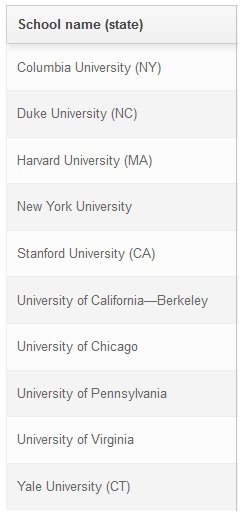 The salient difference from last years list is that Michigan, who got into the top ten last year via a tie, is now out. Bad news for Michigan, but not too unexpected.
Now that you've looked at the reputable leak, here's one that I won't necessarily vouch for at all. It does, however square up with Above The Law's top 10. This comes from the Spivery Consulting's website, and was published today. There is zero explanation as to where they got it:
1. Yale
2. Harvard
2. Stanford (+1)
4. Columbia
4. Chicago
6. NYU
7. Penn
8. UVa
8. Berkeley (+1)
8. Duke (+2)
11. Michigan (-1)
12. Northwestern
13. Cornell
14. GULC (-1)
15. Texas
16. UCLA
17. Vanderbilt (-1)
18. Wash U
19. Emory
20. USC
20. Minnesota
If this turns out to be accurate, then Duke gets a big leap at the expense of Michigan, and Stanford gets a promotion. Let's wait and see tomorrow whether this turns out to be the real deal.
Also interesting to see will be where UCI lands now that they are finally ranked. I've heard rumors that it will be the #30 spot, an impressive debut. Time will tell. Check back tomorrow for our detailed analysis of the official rankings!