What is the best LSAT watch? No digital watches are allowed when you take the lsat. Analog Watches are the only timers that you can bring into the LSAT. So I'd like to know: what is the best analog watch for the LSAT?
The best LSAT watch is an analog watch with a turning bezel.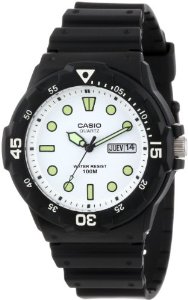 I used a Casio Men's MRW200H-7EV Sport Analog Dive Watch, which I felt was the best lsat watch that I could have found.
Using your LSAT watch with rotating bezel
The bezel turns, and all you have to do is line the "0" on the bezel up with the minute hand at the point that the test begins. Then you have an easy, visual, reference to see exactly where you are within the 35 minutes.
Make marks at the 8:45, 17:30, 26:15 for additional reference points on the bezel. I've found it be to very helpful. It is one less thing that I have to think about during the test, and helps me make sure that I never lose a sense of proper pacing.
I think that an analog watch with a bezel tops any other type of watch for the LSAT. People usually just use a standard analog watch, and set the time to 12:00 at the beginning of the exam. However, I think that my method slightly decreases the time that it takes to reset the watch in between LSAT sections. It also minimizes the risk of error (e.g., forgetting to push the pin back in the watch in order to start the clock when the section begins).
There are other analog watches with bezels, but I loved the Casio. It also lays flat on the table, so you don't have to keep looking at your wrist… you can just set it next to your exam and quickly glance at it whenever you need to.
I would recommend buying this type of LSAT watch and using it throughout your LSAT prep as you take preptests, so that by exam day, you will be incredibly familiar with using it.
Click here to buy the Casio analog watch (any watch with a rotating bezel will work as an LSAT watch, but that one is the cheapest analog watch with a rotating bezel that I could find on amazon).