A Wall Street Journal blog posted yesterday that by and large, LSAT numbers at the top law schools are holding despite the fact that far fewer people are taking the LSAT and sending in applications. Applications to law school have plunged in the last several years: in last year's cycle they were down over 40% from pre-recession highs, causing many law schools to reduce class size, accept weaker applicants, or both.
Top law schools have not been spared from the crash- Harvard for example saw a 27% decline in applications from 2009-2012. However, very few of the top schools have had to significantly reduce class size, and the numbers show that they haven't had to accept applicants with significantly lower stats either…
Yale Law:
Class of 2012: 170/176
Class of 2015: 170/176
Harvard Law:
Class of 2012: 171/176
Class of 2015: 170/175
University of Chicago Law:
Class of 2012: 169/173
Class of 2015: 167/173
Duke Law:
Class of 2012: 167/171
Class of 2015: 166/170
Columbia Law:
Class of 2012: 170/175
Class of 2015: 170/174
(Source)
Some small shifts downward shifts have occurred, but nothing earth shattering. The observer might be wondering just how these schools are keeping numbers up despite the applications drought, especially considering that the amount of people getting high scores on the LSAT has fallen at a faster pace than those getting low scores, meaning fewer top scorers are applying as well. Here's a look at last year's change: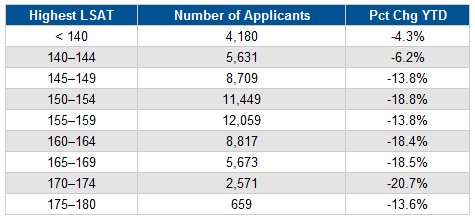 (Source)
So what gives? Here is the answer: These schools have had to raise their acceptance rate significantly in the last several years. Harvard's acceptance rate was around 11% in 2009. In 2012, it was almost 16%. Whereas in the past, these schools had considerably more applicants with the right numbers than they could accept, this is now less the case. The other factor is that top law schools are digging into their pockets for more scholarship money to attract the remaining applicants.
What this all means: if you have the right numbers, you are likelier than ever to get in to these schools and get an attractive scholarship to boot. However, you still need the numbers, and these numbers are very hard to obtain.
In other words, Harvard, UChicago, and the like are still very hard to get into.