Live Webinar:
---
Update 5:50 PM EST — Score Release Confirmed!!!
Here's the curve: A -12 gets you a 170. Snapshot: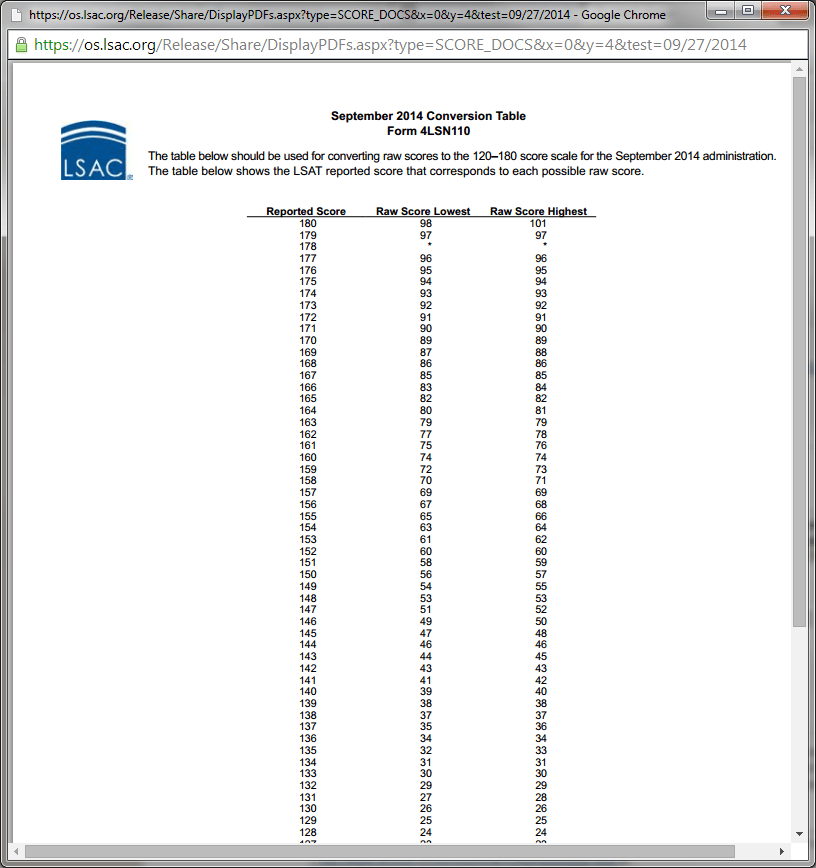 Bear in mind that scores often take as long as a couple hours to roll out. If you don't have yours yet be patient. Check in here to tell us how you did!
Some More Updates:
5:45 EST: There are reports that the email date has been changed to today's date. Get ready for it!
5:30 EST: It now appears that a lot of people are seeing gray!
4:49 EST: Killoran also posted part of an email from LSAC to verify his claim: http://imgur.com/1BdX666. Either LSAC lied or scores will be out today. Try to not refresh the LSAC site so much that you break it!
4:03 EST: Dave Killoran (CEO of Powerscore) claims to have official word from LSAC that scores will be out today.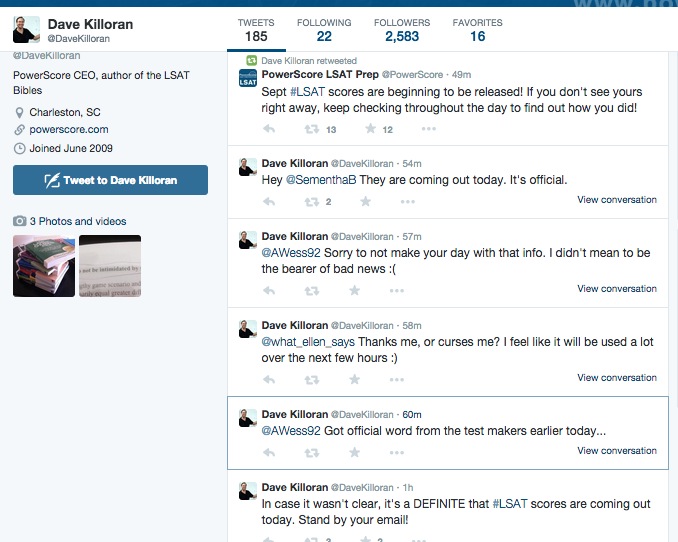 3:23 EST: Kaplan, Blueprint, Powerscore AND USNews have all jumped the gun. USNews published an article 5 hours ago with the author saying scores had been released. Clearly he was just guessing that they would be by the time of publication.
3:10 EST: Powerscore is also claiming some scores are out. Where's the proof???
3:00 EST: Some TLS users report seeing gray. It could be starting soon.
2:55 EST: Kaplan and Blueprint appear to have jumped the gun by tweeting that scores were being released. They've fallen victim to believing people on Twitter. I'm waiting to see a curve sheet before I confirm. No one on TLS even reports "going gray" yet.
2:50 EST: As of yet no one has confirmed receiving their score, and everything is still "green." LSAC's site is slowing down however, which often happens just as scores are about to be released. Fingers-crossed for you guys. It's 99% probable the release will happen today, so don't stress!
SCORE RELEASE UPDATE:
When will September 2014 LSAT scores be released?
September 2014 LSAT Scores are scheduled to be released on October 22nd.
I think you're most likely to see an October 16th, 17th or 20th release date. Historically, when LSAC schedules a Wednesday release date in October, the scores generally come out on Monday, two days earlier. That would be the 20th. I peg that as the most likely release date.
I do think, however, that we could potentially see a release date as early as today or tomorrow.
Here's why…
June scores were scheduled to be released on Monday, July 7th and were released on Tuesday, July 1st. As the number of people taking the LSAT continues its decline, it may be easier for them to process scores. In any case… I wouldn't start obsessively refreshing your inbox until the 16th or 17th 🙂
If scores aren't out by Friday, it's highly unlikely that they'll be released over the weekend… so feel free to relax and enjoy the weekend.
We'll keep you posted with any updates as they come in, so be sure to check back regularly over the coming days.
If anyone sees any activity from LSAC, please send in your tips by using the comments section below this post.
---
How did the September 2014 LSAT go?
As is tradition here at lawschooli.com, here is a post where we can discuss the LSAT that was administered today, September 27th, 2014.
We'll update this post to track the September 2014 LSAT here as we get more information and you can use the comments section below this post to discuss the score release and anything else related to this test (how it went, do you need to retake, etc.)
Let the discussion begin! – Looking forward to hearing from everyone in the comments below.
---
Update 1: It looks like the first round of test-takers are now finishing up! Hope you CRUSHED it today!
---
Update 2: From what I'm hearing…
The real LG section had 23 questions & a bouquet game & house owners game.
The real RC section had 27 questions & a Darwin passage & cameras passage & property ownership passage
---
Update 3: We've been able to confirm the following…
REAL LG:
23 Questions
Flowers/Bouquet
Houses/Buildings
CDs/Performances
Gold Room/Rose Room
REAL RC:
27 Questions
Property Ownership/Property Transfer
Darwin/Natural Selection
Cameras/Photography
Advertising
---
---