Hi all, here are some more free explanations from modern tests, which we are giving you just because we are nice guys. This test can be found in Actual Official LSAT Preptests Volume V, the compilation of ten brand new LSAT preptests that LSAC recently published.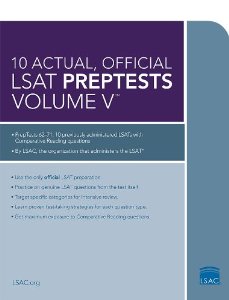 If you are just starting out, don't do these preptests. They should be saved for the end of your prep when the exam is approaching. That said, they are totally necessary study material, so you will have to grab a copy sooner or later. Fortunately, it's way cheaper than buying them all individually.
Now, on to the free LG explanations. Right now I've just got explanations for the two more instructive games in here, game 2 and game 3. I'll add 1 and 4 later. These explanations use a mix of techniques from The LSAT Trainer and Powerscore's Logic Games Bible, but they should make perfect sense to anyone using a good LG diagramming system (i.e. Blueprint, 7sage, Testmasters, or Manhattan).
LSAT Preptest 65 LG Explanations
Okay, on to the games. This particular preptest contains games with little "wrinkles", rules that are the same type of rules you are used to working with but presented in less typical fashion. Watch the videos and you'll see what I mean.
---
PT 65, Section 2, Game 2 Explanation
This is a highly instructive game for a few reasons: First, it's the kind of game where you can save big time by keeping your head up and using work and concepts from the earlier questions to solve the later ones. Do that, and this will be a fast solve. Second, this game is great practice for handling "wrinkles," little things that may be a bit different from what you are used to. Just learn to look past it and see that underneath this is just a basic ordering game. Lastly, this is a great game to practice the habit of checking to see if you've solved the question after making each new inference. Go to it.
---
PT 65, Section 2, Game 3 Explanation
This game will crush your dreams unless you do it the right way. That's all I'll say now. Watch the video to make sure you avoid quicksand-like this on your actual test day.
---
More LSAT LG Explanations: