---
:::UPDATE 07/01/2014 3:03PM — It has been confirmed that scores are coming out now. Watch your email! Leave a Comment
::: Could someone please send me a screenshot of the scale? joshua.craven@lawschooli.com
:::UPDATE 07/01/2014 3:16PM — Here's our first look at the score conversion table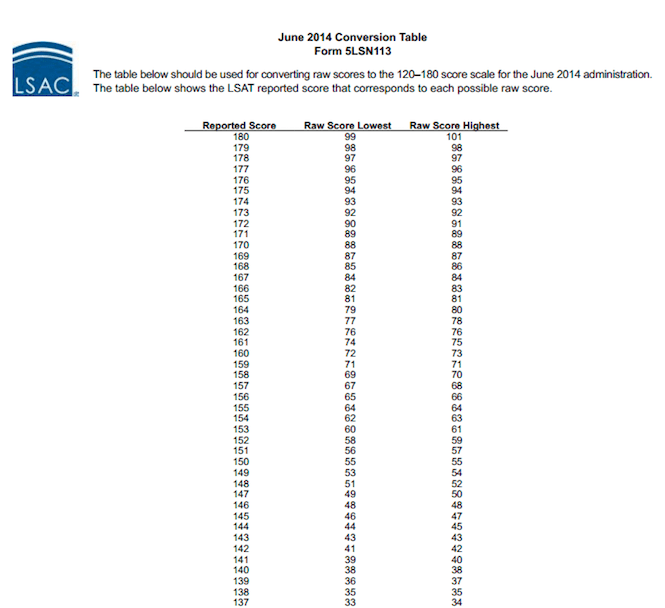 It appears to be a -13 curve. This is indicative of a pretty hard test, but nothing too unusual for recent LSAT history. This is about what was expected given a tricky games section and a fairly standard RC and LR.
---
FREQUENTLY VIEWED POSTS DURING LSAT SCORE RELEASES:
As is tradition here at lawschooli.com, here is a post where we can discuss the score release date for the LSAT that will administered tomorrow, June 9th, 2014. We'll track the June LSAT here and you can use the comments to discuss the score release and anything else related to this test (how it went, do you need to retake, etc.)
June LSAT score releases can get a little funky with July 4th falling close to the scheduled release date, but in the past LSAC usually manages to get scores out before the holiday.
Remember, the scheduled release date is just a way for LSAC to promise you that you'll definitely get the score by that date. In reality, the score almost always comes out a few days before the scheduled release date. You score is released first to both your email and your private LSAC account where you registered for the test, which will update with the scores as they come out.
Scheduled and Estimated Score Release – June LSAT 2014
The scheduled score release date for the June 2014 LSAT: July 7th, 2014

I was able to pick the release date correctly for February so I'm going to try my luck again. Remember that this is just a guess based on LSAC's past practices (see below).
Estimated Actual LSAT Score Release Date: July 3rd, 2014
UPDATE Sunday, June 8, 7:00pm CST: At least one of the students in my study group is showing a "score e-mail date" of 07/03/14 in her LSAC account, which likely confirms the 3rd as the day to expect your scores. Can anyone else verify that they are seeing the same thing? It's on your testing status page.
To see how's it's played out in the past, here is some data from June score releases recent years:
June LSAT Scheduled vs. Actual Release Dates
| June LSAT Administration Date | Scheduled Score Release Date | Actual Score Release Date | Days Early |
| --- | --- | --- | --- |
| Mon, June 10, 2013 | Fri, July 5, 2013 | Mon, July 1, 2013 | 4 |
| Mon, June 11, 2012 | Wed, July 6, 2012 | Mon, July 2, 2012 | 4 |
| Mon, June 6, 2011 | Wed, June 29, 2011 | Mon, June 27, 2011 | 2 |
| Mon, June 7, 2010 | Mon, June 28, 2010 | Fri, June 25, 2010 | 3 |
| Mon, June 8, 2009 | Mon, June 29, 2009 | Thurs, June 25, 2009 | 4 |
Okay, so that's the deal. Check in here tomorrow and tell us how the test went. We want some reports on whether it was hard or easy so we can start speculating on the curve.
Best of luck tomorrow. I know if you've been following our advice and have prepped hard, chances are way better than even that you'll have a good performance tomorrow and come back with a score you are happy with. Go crush it, then you will be done and can go enjoy the nice June weather!