**UPDATE** (January 2nd, 2014) : December 2013 LSAT scores were released
The curve was one of the most generous in a while, meaning that the questions were fairly difficult. Here's a look at the curve:
-14 for a 170
-29 for a 160
-46 for a 150
Scores should be still rolling out now, as we speak. Feel free to use the comments of this post to vent and discuss how the test went. I'll be around tonight to answer questions. Just please, don't talk in detail about the content of individual LSAT questions (we get in trouble for that).
I hope that you guys had some good news today!
***UPDATE*** 7:40 PM
Here is a photo of the conversion table for the December 2013 LSAT: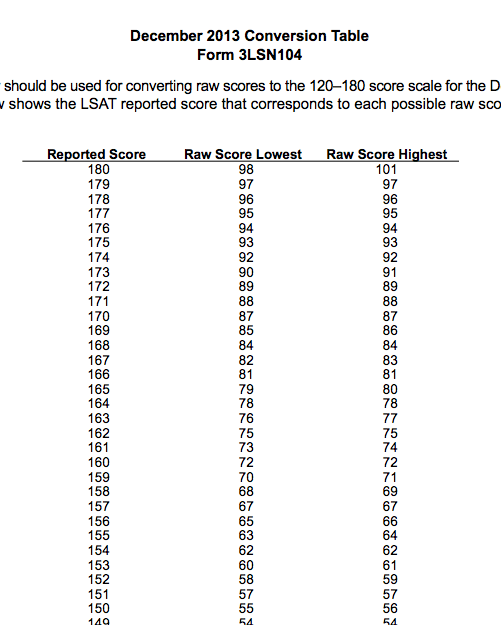 The December 2013 LSAT is coming for you. We'll update this post to discuss all things December 2013 LSAT as they unfold: which section was likely the experimental, which sections, if any, were abnormally difficult, etc.
The email score release date is set at January 6th as of now, however, they usually beat the scheduled date by a few days. I would expect scores around the 3rd of January.
Like last time, you'll be able to vent here if your score was sub par and, as always, Josh and I are here to provide advice. Just say whatever you need to say in the comments. It can be anonymous.
I hope LSAT prep didn't ruin your peace of mind too much over Thanksgiving. You are going to feel nervous in the coming days. That's completely normal. If you are completely calm and collected, you might be one of those very low anxiety types, commonly called psychopaths. That's okay too. You'll probably have a long and successful career in the law.
For everyone, here is some past advice that should help you navigate the next week:
How To Handle The Last Week Before The LSAT
Read that stuff.
Now, as the test approaches, it's important now to have faith in your abilities. The test you take on Saturday, December 7th is going to be more or less the same as all the practice tests that you've taken up until now. Just trust your skills and you'll be fine.
After the test, try to get on schedule with our December Admissions Timeline.
Best of luck!
UPDATE: Test Difficulty
The test doesn't appear to have had any single thing that people found extremely difficult (i.e. no game that is going to become notorious, like the mauve dinosaurs). Difficulty was fairly well balanced among the sections.
It looks like the scored LG section was generally considered harder than average. A lot of people were dismayed because there was an experimental games section that was significantly easier than the scored one.
RC doesn't seem to have been too crazy. The passages were interesting which often helps.
LR seems to have been a mixed bag. A lot of people describe one section being slightly harder, but nothing too terrible.
UPDATE: Which section was experimental on the December 2013 LSAT?
(Disclaimer: I'm cobbling this info together from other takers, so I can't truly verify it. If you know anything here isn't correct, please say so in the comments)
From what I can glean, if you had two RC sections, the one with a passage about paternalism was the experimental. The one with mirrors and chairs was real.
The real LG section had games about discussed books, museum entrances, and online gaming. Trees, salaries and magazine features was experimental.
If you had three LR sections, then I have no idea which was experimental.
UPDATE: Weather Cancellations
As some of you know, testing was cancelled due to weather conditions at a good number of places. In response, Harvard has decided to accept February LSATs for admission this coming fall. The following is an excerpt from an email:

I expect most schools will follow in Harvard's footsteps (note that most schools do already except February LSAT scores whether or not it's their policy to do so, given that so few people are applying to law school).
If you are curious about a school's individual policy, contact them. I have made a list in the past of schools' policies on the February LSAT, but my guess is that there has been enough flux lately that that list isn't very helpful. Basically though, everyone is accepting Feb LSATs.
Good luck to those taking the postponed test tomorrow or in the coming days. That's a hard thing to have to go through. Stay positive! Just remember, the test will not be any more difficult just because it's at a weird time.